News
Annual meetings of the network and Technicians Platform
June 2016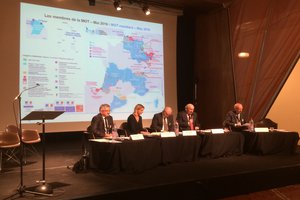 Following the annual conference, the meetings of the MOT's bodies took place on 25 May. The MOT's President, Michel Delebarre, presented its new members: the Cluster GAT Caraïbes, the Principality of Monaco, the Strasbourg-Mulhouse-Colmar Metropolitan Hub, the IDELUX-AIVE Group (Belgium) and KiosK Office.
Map showing members.

The Steering Committee discussed the MOT's activities and the General Assembly approved its work programme as well as the financial and activity reports for last year. Additional elections endorsed four new members of the Steering Committee and the Board representing the regions of Auvergne-Rhône-Alpes, Aquitaine-Limousin-Poitou-Charentes, Grand Est, and Provence-Alpes-Côte d'Azur.1
Following this, the Technicians Platform was devoted to "obstacles/resolutions approaches" and cross-border impact assessments. The new discussion forum for members set up by the MOT is aimed notably at identifying obstacles and resolving them. It will be finalised by the end of the year. Initiatives on other borders and at the European level were presented.2 The second part of the meeting addressed the need for training for players, recalling the MOT's work with government departments and within the network.3 One of the MOT's objectives is to strengthen its partnership with the Centre National de la Fonction Publique Territoriale (CNFPT) in order to increase the range of training in cross-border settings.4
1 Minutes of the meetings (reserved for members - FR).
2 Council of Europe: ISIG database; European Commission: Cross-Border Review; follow-up to Luxembourg's presidency; Committee of the Regions' initiative on cross-border impact assessments.
3 "The cross-border director-general" training course, 26-27 April (FR).
4 Minutes of the Platform meeting (reserved for members - FR).
Back to list