News
Inauguration of the first French-Spanish high-voltage line
March 2015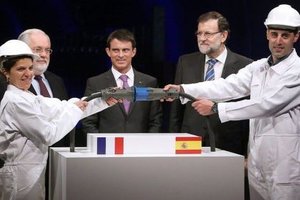 On 20 February 2015 at Montesquieu-des-Albères in the eastern Pyrenees, French prime minister Manuel Valls and Spanish head of government Mariano Rajoy inaugurated the new high-voltage electricity interconnection line between the two countries.
Running for 64 km between Baixas at the French end and Santa Llogaia at the Catalan end, the line will double transmissions between the two countries, with interconnection capacities (2800 megawatts) equivalent to those between France and Switzerland, Germany or Italy.
"This interconnection has been talked about for 25 years, but since the decision by the governments in 2008 the process has advanced rapidly," declared Dominique Maillard, chairman of the executive board of French transmission system operator RTE. The link was originally planned as an overhead line, but opposition from the population resulted in it being buried instead. In the end, three years of work and an investment of 700 million euros were necessary to connect the Iberian peninsula with the rest of the European electricity system.
A few days after this event, the European Commission presented its plan for an Energy Union, which sets a target of 10% of the electricity produced in the EU able to cross borders between the various Member States by 2020.
Back to list