News
"Territorial Solidarities" Working Group: For the consideration of cross-border living areas in times of crisis
May 2021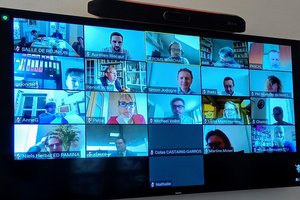 Feedback on the MOT Network's Working Groups: Since 2020, the working groups of the MOT network have been bringing together MOT members at regular intervals to share the experiences of border areas and encourage the emergence of propositions for action. Here we present the findings of the first three groups established.
"Territorial Solidarities" Working Group
Since holding a first session on 12 June 2020, the "Territorial Solidarities" working group has provided an important framework for discussing crisis management arrangements at borders. Beginning with the shock of the sudden closure of intra-EU borders in March 2020, the participants shared their accounts, from their different perspectives, of the place of local and national stakeholders in the management of the crisis, the coordination between them, and the action that has been taken in response. Both critical and encouraging observations were made, showing that beyond the instinctive reactions to protect and close off "border lines", it is above all in places where there was already a strong culture of working together that responses have been made at the level of "border territories".
In addition to analysing institutional responses, the group dedicated some of its time to discussing the impacts of restrictions on the sense of European belonging. Suddenly faced with the return of border checks and the halting of a number of projects, the inhabitants of these territories have been confronted both with mechanisms of national withdrawal, and with efforts to promote belonging to these shared living spaces. At a point in time when this crisis appears to have been at least partially overcome, the debate to bring about truly integrated cross-border living areas has been fully revived.
A summary of this first year of discussions, marked by four work sessions between 12 June 2020 and 19 March 2021, will be published shortly.
The other MOT Network's Working Groups:
"Cross-border Governance" Working Group: Towards the creation of a cross-border status?
"Metropolitan Cooperation" Working Group: Strengthening cross-border cooperation between universities
Back to list