News
"Cross-border Governance" Working Group: Towards the creation of a cross-border status?
May 2021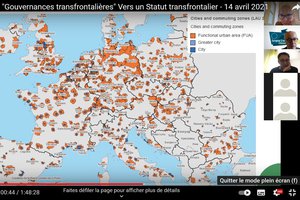 Feedback on the MOT Network's Working Groups: Since 2020, the working groups of the MOT network have been bringing together MOT members at regular intervals to share the experiences of border areas and encourage the emergence of propositions for action. Here we present the findings of the first three groups established.
"Cross-border Governance" Working Group
The creation of a "cross-border status" is an idea emerging within several cross-border regions, such as Eurodistrict Pamina and the Lille-Kortrijk-Tournai Eurometropolis, whose two directors jointly facilitate the working group. This issue fuelled discussions within the MOT's "Cross-border Governance" working group at its first two meetings in 2021.
Following a position paper on the subject by the President of Lille-Kortrijk-Tournai Eurometropolis, Rudy Demotte, discussions initiated within Eurodistrict Pamina on the creation of a "pass to make citizens' lives easier", as well as the French-Swiss idea of a cross-border living area convention, the group's discussions focused on defining the building blocks of a hypothetical "cross-border status".
In February, the first session allowed discussions on the actual content of the concept of "cross-border citizens". It was followed by a second session in April, focusing on the concepts of "cross-border living areas" and "functional areas".
At this stage, a powerful idea emerged from the discussions: cross-border public services need to be central in recognising such a cross-border status.
A third session will be held in June 2021. Its goal will be to form conclusions and concrete proposals for bringing about recognition of a cross-border status. The meeting will also allow work on multi-level governance in border areas, which requires the competent authorities at different levels working together. Their commitment alone will ensure progress towards the structuring of functional areas at the heart of a formally recognised "status" for their inhabitants.
The other MOT Network's Working Groups:
"Metropolitan Cooperation" Working Group: Strengthening cross-border cooperation between universities
"Territorial Solidarities" Working Group: For the consideration of cross-border living areas in times of crisis
Back to list