News
Greater Geneva: 3 major infrastructure projects co-financed by the Swiss Confederation
September 2017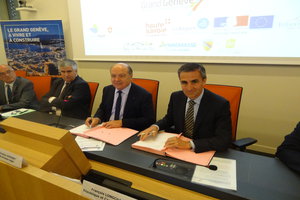 On 19 June 2017, new conventions were signed between the President of the Council of State of the Republic and Canton of Geneva, François Longchamp, and the President of the Agglomeration community of Annemasse ,Christian Dupessey, enabling the Swiss Confederation's participation in the financing of 3 Greater Geneva flagship projects, at a level of 26 million euros.
Two years after the entry into service of the bus rapid transit service in the Annemasse agglomeration, these new conventions show the interest for Switzerland in associating with French and EU co-financers for the realisation of transport infrastructure within French territory.
The extension of the Geneva-Annemasse cross-border tramway
The arrival of the tramway will enable a direct service between Annemasse and Geneva from city centre to city centre, in a complementary manner to the Léman Express commuter rail service. The first stretch of 2.1 km is accompanied by a redevelopment of public spaces, enabling easier access to shops and services and facilitating journeys by bike and on foot, as well as increasing the amount of green spaces.
Development of the public spaces of the new Annemasse railway station linked to the Léman Express
Directly linked to the CEVA rail link project (Cornavin, Eaux-Vives, Annemasse), this project aims to facilitate access to trains from all modes of transport (buses, intercity coaches, cars, bicycles, pedestrians) and forms part of the planned new railway station in Annemasse. Indeed, with the entry into service of the Léman Express, no less than 4 million travellers per year are expected, thus changing the status of the station within the cross-border conurbation
The Greater Geneva greenway
While this development allows the creation of a continuous French-Swiss railway service from Annemasse to Geneva, the goal is also to introduce a "green component" within the dense urban landscape. Positioned over the underground tunnels of the CEVA railway project, this 900m stretch is a key element of the urban Greenway project on the French side of the border. The total cost of the operation is evaluated at 5.7 million euros, to which the Swiss Confederation is contributing 210,000 CHF*.
* About 191 000€
Back to list