News
The "Pyrénées-Pirineos" EGTC: Aragon and French territorial authorities join forces
January 2021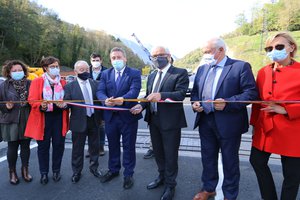 Since 19 October 2020, a single European Grouping of Territorial Cooperation (EGTC) has brought together Aragon, the Province of Huesca and the Hautes-Pyrénées and Pyrénées-Atlantiques Departments.
In the central Pyrenees, a new stage in cross-border cooperation was reached with the setting-up of the "Pyrénées-Pirineos", EGTC, headed by Michel Pélieu, President of the Hautes-Pyrénées Department, one of the four founding territorial authorities. This new legal structure merges three cooperation bodies: the Espace Pourtalet EGTC, the HP-HP EGTC and the Aragnouet-Bielsa Tunnel Consortium. Michel Pélieu, Jean-Jacques Lasserre, his counterpart in the Pyrénées-Atlantiques, Miguel Gracia, President of the Huesca Diputación Provincial and José Luis Soro, Regional Minister for Territorial Planning, Mobility and Housing in the Gobierno de Aragón, have approved this new decision-making body, which will enable the implementation of ambitious operational projects and further raise the profile of the central Pyrenees at European level.


Five areas of development:
• Promoting and marketing the Pyrenees as a tourist destination.
• Developing rational and innovative integration of local and tourist-oriented transportation.
• Supporting the development of the Pyrenees area and its foothills within the framework of a territorial project incorporating the sustainable management of its cross-border infrastructures.
• Integrating the mountainous territories on both sides of the Pyrenees in keeping with current objectives: maintaining the population and adapting to the climate, economic and social transitions.
• Bringing together and involving territorial authorities, their groupings, grassroots organisations and economic and social partners by supporting and encouraging cooperation and development projects in the territory.
Read the editorial by Michel Pélieu, President of the "Pyrénées-Pirineos" European Grouping of Territorial Cooperation

Photo : Création du GECT "Pyrénées-Pirineos"
Credits : Mickaël Louit


Back to list