News
France-Spain-Andorra: controls and health coordination
March 2020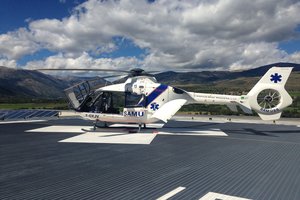 As of March 18, Spain is the second most affected country in Europe by the COVID-19 epidemic with 13,910 diagnosed cases and 623 deaths. Since midnight March 17, Spain's land borders have been closed "in order to reduce the number of people infected with the virus both nationally and in Europe," according to Spanish Minister of Interior Fernando Grande-Marlaska.
Only Spanish citizens, residents in Spain, cross-border workers, diplomatic personnel and cases of force majeure, as well as goods trucks, can enter the country. Spain, which has been on alert since 14 March, has banned its 46 million inhabitants from leaving their homes except for basic necessities such as going to work or buying food.
From west to east, border controls have been re-established. The Guardia Civil and the Spanish police are posted at every border crossing point. In the Basque Country, every vehicle and pedestrian is checked by police officers. Without Spanish identity papers or employer's certificates, people are not allowed to cross. Cross-border workers living in the Pyrénées-Atlantiques and working in Euskadi continue to cross the border. But it is no longer possible, for example, to travel to Spain for shopping.
Further east, the French-Spanish Cerdanya has seen many Barcelonians arrive in confinement in their second homes in the mountains. The mayor of Puigcerdà, the border town of Bourg-Madame, Albert Piñeira demanded that "nobody goes up to Cerdanya any more, because the area's health structure, the Cerdanya cross-border hospital, is not designed to receive so many people". The Cerdanya Hospital nevertheless continues its cross-border activity because a health corridor has been set up with France.
Part of the hospital has been made safe for patients with Covid-19 but the hospital is not equipped for critical care. In terms of cooperation, the Principality of Andorra has requested the Toulouse University Hospital, within the framework of their cooperation agreement, for transfers of critical care patients to Toulouse.
Andorra would be a new epidemic cluster, and in order to set up more intensive care beds, both anaesthetic personnel and breathing equipment are needed, a burden that is far too heavy for the Meritxell Hospital in Andorra la Vella. The particular situation of the Principality, which is landlocked between two Member States of the European Union, does not allow for a total closure of the borders.
Back to list