News
Employment Forum in Annemasse
October 2014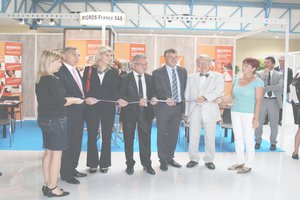 The French-Swiss cross-border Employment Forum took place on 18 and 19 September 2014 in Annemasse.
Organised by the European cross-border grouping and Le Dauphiné Libéré, it provided an opportunity for French and Swiss businesses and workers of the France-Vaud-Geneva area to meet each other.
Christian Aebischer, deputy mayor of Annemasse, emphasised that despite "the political uncertainties related to the votes last February, the cross-border forum is a way to find a job without any stigmatisation". Guy Larmanjat, vice-president of the Ain department general council, declared that he supported "all that is placed at the service of our fellow citizens. It's social integration!" Lastly, Le Dauphiné libéré took advantage of this event to announce the introduction of a daily page of border and Geneva news from the end of September.
Back to list