News
Changes to the legal regime governing EGTCs
February 2014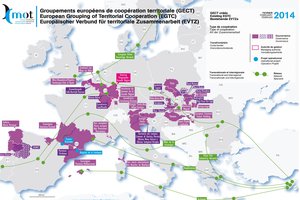 On 17 December 2013, the European Parliament and the European Council approved Regulation 1302/2013 concerning European Groupings of Territorial Cooperation (EGTCs). This new regulation introduces a series of amendments to Regulation 1082/2006, which forms the legal basis for EGTCs. It will help to clarify, simplify and improve the establishment and functioning of EGTCs.
One of the notable amendments is the expansion of these structures' potential members. The following entities will now be able to participate in EGTCs: authorities at national level (national agencies or departments, etc.), public undertakings and undertakings entrusted with the operation of services of general economic interest (SGEI).


Another advance concerns the participation of third countries. It will now be possible for EGTCs to be set up by a structure belonging to an EU Member State and a structure from a neighbouring third country with which the Member State carries out cooperation actions.


The accession of new members will be facilitated: if these new members are from a Member State that has already approved the convention, their participation is approved only by the State whose law governs the new member's establishment.


The new regulation also aims to amend the procedure for the approval of EGTCs by the national authorities, which shall now solely concern the EGTC's convention. Member States must decide whether to approve an EGTC within a period of six months following the submission of the request to set it up. If no objection is raised the request is deemed to be approved, except with respect to the Member State in which the EGTC will have its registered office, which must formally approve the convention.



In theory, the regulation gives greater flexibility concerning the law applicable to EGTCs (the actions of the EGTC's bodies, the EGTC's activities and the rules that apply to its staff). The regulation is very neutral, however, and leaves it up to Member States to interpret these provisions and define the law applicable to EGTCs and in particular to their staff.
Regulation 1302/2013
Map of the EGTCs

Back to list