News
Lille-Kortrijk-Tournai Eurometropolis: For better access to cross-border jobs
January 2015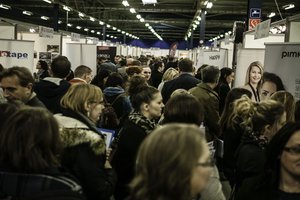 In 2006, under the impetus of civil society, three public employment services (those of the Nord-Pas-de-Calais Region, Wallonia and Flanders) and Unizo (the Union of Independent Flemish Entrepreneurs) set up the "Eurometropolis Jobs Forum".
Every year in the area of the Lille-Kortrijk-Tournai Eurometropolis, it brings together Walloon, Flemish and French businesses and enables them to meet job-seekers directly.

The results are positive, with 50,000 visitors, 1000 businesses from all sectors and 15,000 vacancies offered. In 2014, 100% of businesses and 70% of the public reported that they were satisfied with their participation in it. This cooperation allowed players in the field of employment to get to know one another better and to understand the territory's strengths and needs before implementing common actions and measures on the ground.
The three employment services collaborate via the Eureschannel network, which was set up to facilitate job mobility in the border region. They have created a tripartite range of services and have submitted a "Jobs without Borders" project under the European Employment and Social Innovation (EaSI) programme, in particular to remove obstacles to job-seeking in the cross-border region.
Actors in the "Eurometropolis 2020" strategy, they are continuing with their collaborative work in 2015, with the goals of developing work/study programmes and training, and adapting the Jobs Forum to make it better suited to the current market.

More info [FR]
Back to list