News
Strasbourg-Ortenau Eurodistrict: A cross-border cycle ride to bring citizens on either side of the Rhine together
October 2019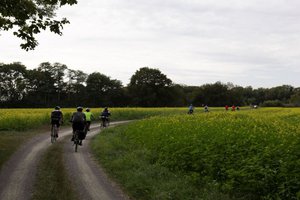 On 22 September 2019, amateur and professional cyclists from either side of the Rhine set off to discover the territory of the Strasbourg-Ortenau Eurodistrict during a cross-border cycle ride.
Over the course of a 60 km route through fields, forests and villages, ten or so gourmet staging posts offered tastings of local products, accompanied by artistic and musical entertainment.
Organised every year by the Eurodistrict and its partner municipalities, this Franco-German event brings together in a convivial atmosphere organisers, volunteers and participants from both sides of the Rhine.
It is an opportunity to promote the local culture and its players, the beauty of the region and eco-friendly mobility in the cross-border setting, as well as strengthening the sense of belonging within the Eurodistrict.
Photo : Aurélien Ebel
Back to list