News
Study on the Greater Region's territorial development plan
December 2016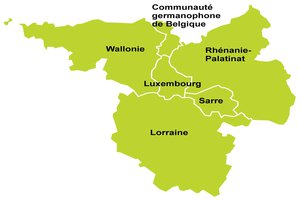 At the request of Luxembourg's Ministry for Sustainable Development and Infrastructures, acting on behalf of the different bodies of the Greater Region's Summit, a consortium led by the North Lorraine urban planning agency (AGAPE) in collaboration with the MOT, the urban planning agencies of Metz (AGURAM) and Nancy (ADUAN), and the Technical University of Kaiserslautern, carried out an assignment to assist with the drawing-up of the Greater Region's territorial development plan.
This assignment took place from September 2015 to November 2016.
The first phase of the study consisted in the analysis of planning documents by country (Belgium, Luxembourg, France and Germany) and of cross-border guidance documents. It was followed by a cross-cutting study of the three existing documents of the Greater Region's territorial development plan: the metropolitan dimension, transport and the economic component. A third phase consisted of a series of interviews with players in the territory in order to adapt the analyses and the contents of the plan formulated.
Several observations emerged:
Economic development is regarded as being an issue "apart" in terms of cooperation for players in the Greater Region
There is divergence in the way territorial development is understood by the different members of the Greater Region
Two areas appear to be priorities: transport and improving living conditions for the population.
The study was presented at the meeting of the ministers and political leaders responsible for territorial development in the Greater Region on 23 November 2016 in Namur. The representatives approved the consortium's recommendation to adopt a process in four phases to draw up the plan:
understanding: establishing a basis of shared knowledge
strategic vision: adopting a common project for the future
operational programme: determining priority actions
monitoring: evaluating the process.
Back to list