News
Esch2022, a cross-border European Capital of Culture
November 2022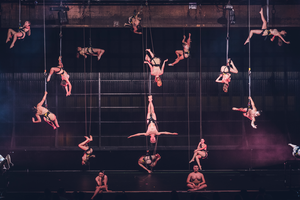 Since its application for the title of "European Capital of Culture", the city of Esch-sur-Alzette, on the Luxembourgian side of the border, has emphasised the cross-border dimension of its territory and has integrated French municipalities and partners.
Traffic between the two countries is part of the daily life of the inhabitants. Every day many French people cross the border to go to work in Luxembourg. Since the beginning of 2022, a strong desire to show this cross-border region in a different light has been put forward: to promote its heritage, its environment and its shared history.
The cross-border Steel Trail, a 22 km walk through the two countries, is a perfect illustration of this initiative. In regard to the idea of a common history, the Institut National de l'Audiovisuel has created a digital fresco recounting the key moments of Franco-Luxembourg cooperation. Esch2022 also made it possible to question cross-border relations, to confront the feelings of the inhabitants, in particular through the exhibition Frontaliers. Lives in stereo (cf. photo), featuring the lives of a few selected residents.
Finally, Esch2022 has also pushed small local structures to have bigger cross-border ambitions. The French dance school Chor'A'Corps wrote and produced a show specially designed for an emblematic place in Alzette Belval: the Belval blast furnaces. This was a unique opportunity for this association to proudly highlight the history of its territory and its ancestors. The challenge was enormous: to transform a place that had never been used for a show before, to learn a new practice, weightless dance, and to pay tribute to those who built this region. The project was a success, with all the performances sold out.

In the end, about a third of the 160 Esch2022 projects had a cross-border character. A great commitment that strengthens the synergies for the cultural future of this borderless territory.

Read the editorial by Pierre-Marc Knaff, President of the Alzette Belval EGTC.
More info:
- Esch2022 [FR]
- Le GECT Alzette Belval [FR]
Photo: Martin Kubiak
Back to list