News
Survey on cross-border public transport in Europe
February 2021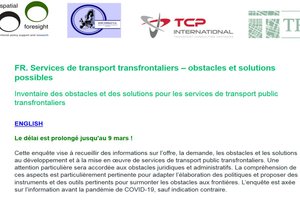 The DG REGIO has launched a study to identify all existing cross-border public transport services and related legal obstacles. The contributions to this survey are crucial to ascertain the number of existing services and to gather information on the challenges that need to be overcome.
Please note: the survey refers to the situation prior to the Covid-19 pandemic.
Deadline: 9 March 2021.
Back to list