News
Online survey - Franco-Belgian border: share your experience of the Covid-19 crisis
Juin 2021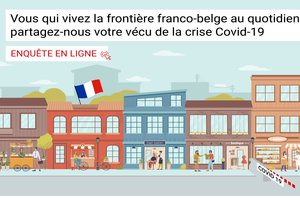 The health crisis put the inhabitants of border regions in an unprecedented position that placed a strain on all aspects of their daily lives. In this case, the daily lives of the inhabitants of the cross-border living area of the Lille-Kortrijk-Tournai Eurometropolis were seriously disrupted. The concrete effects of these restrictions need to be analysed in greater depth to learn the lessons in order to act better in the future.
In this context, your experience as a citizen, worker or entrepreneur living or working in this cross-border territory is indispensable!
The contributions received will inform work carried out by the Lille Metropolis Development and Urban Planning Agency (ADULM) and the MOT, in partnership with the Lille-Kortrijk-Tournai Eurometropolis.
Back to list