News
Energy, citizenship, the ECBM, observation: major topics at the heart of the workshops attended by the MOT
October 2019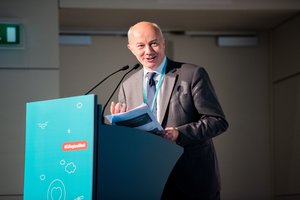 At the 2019 edition of the European Week of Regions and Cities, which brought together over 9,000 participants in Brussels, the MOT ran a workshop entitled "No country is an island: joint cross-border strategies for a clean energy transition".
The presentations made by three members of the network and a partner from Estonia illustrated the issues and the actions aimed at implementing the energy transition across borders:
active involvement of citizens, with the example of the Strasbourg-Ortenau Eurodistrict;
Euroregional cooperation in the areas of marine renewable energies and innovation, presented by the Nouvelle-Aquitaine-Euskadi-Navarra EGTC;
the numerous maritime cooperation initiatives for a low-carbon strait between Tallin (Estonia) and Helsinki (Finland);
and the ambitious Franco-German post-Fessenheim energy strategy, set out by the Haut-Rhin Department.
The speakers were able to question the representatives from DG REGIO present in the room: the latter set out the mechanisms that have been put in place to overcome obstacles in order to accelerate this transition, which will help to address the coming climate challenges. More info - The presentations online.

The MOT took part in other workshops, some of which were devoted to topics that are at the heart of the issues facing cross-border territories:
The MOT underscores the importance of the discussions that took place, and invites people to consult the presentations from each workshop available online.
Back to list