News
Editorial from Roland Ries, Mayor of Strasbourg, Honorary President of the MOT
May 2015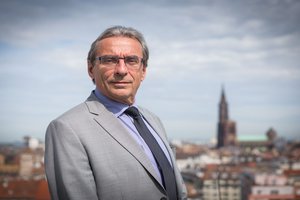 The MAPTAM (modernisation of territorial public action and affirmation of metropolitan areas) Act of 27 January 2014 has opened up new fields for the cross-border cooperation of large conurbations. Linked with the cohesion policy and the EGTC instrument in particular, it shows that the importance of metropolitan approaches in cross-border living and working areas is being taken into account.
Consolidated by the same act, the European status of Strasbourg involves a reaffirmation of its cross-border dimension on three levels: that of its territorial proximity with Kehl, that of the intercommunality within the Eurodistrict and that of the Upper Rhine conurbations.
Strasbourg has fully taken on board this challenge of the strategic governance of cross-border spaces, which are no longer just the point of contact between two countries but territories of innovation based on a joint vision. The transition to Eurometropolis status as of 1 January 2015 follows on directly from the policies developed over a long time by the urban community with its German partners.

Reflecting the radical transformation of the cityscape by the Deux Rives project, which anticipates a new city centre focused on the Rhine, the whole of the urban community is entering a new dimension as it takes up the challenge of integrated governance.

The establishment on 29 May 2015 of the Eurometropolis development council, open to the German partners and cross-border organisations, and the cross-border development plan, the future 360° territorial contract for which the Eurometropolis will be the lead partner, form the pillars of this approach.
Read the article: Strasbourg, a resolutely cross-border metropolis.
Back to list