News
Editorial of Robert Herrmann, President of the MOT, President of the Strasbourg Eurometropolis
June 2018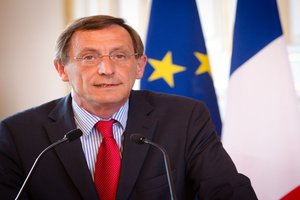 It is a great honour for me today to take up my post as the MOT's President and to follow in the footsteps of my predecessors – Michel Delebarre, Pierre Mauroy, Roland Ries – all great champions of the cross-border and European cause.
I am entirely convinced that the future of our territories and their inhabitants will depend on integration that transcends national borders. In Strasbourg, we experience it concretely every day with our tramline: a veritable accelerator of Franco-German exchanges, it now extends to Kehl, in Germany, and its success has exceeded all of our expectations.
Cross-border cooperation fosters and strengthens European construction. The MOT, a fantastic platform for promoting the European project, forges these links meaningfully, while ensuring that public services and common economic ambitions are enhanced for the benefit of citizens, and arguing for the appropriate European resources. I will now wait for the concrete realisation of the announcements made by the French government and the European Union.

Dear members and partners, I will passionately accompany and support your cross-border territories. Together, we will join forces in order to continue to build and champion these "laboratories of Europe" that are so dear to us!
Read the article: "The MOT elects its new president at the General Assembly in Nice"
Back to list