News
Editorial by Michel Pélieu, President of the "Pyrénées-Pirineos" European Grouping of Territorial Cooperation
January 2021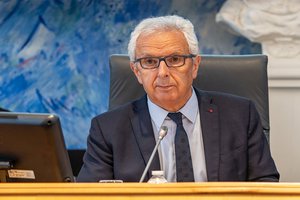 "The Pyrenees have long bound us together"
For the Bigorre, the Basque Country, the Béarn and Aragon, the Pyrenees do not constitute a border. This mountain territory has long bound us together. We wanted to set up the "Pyrénées-Pirineos" European Grouping of Cross-Border Cooperation, which is the fruit of a shared vision and joint action for the central Pyrenees. It was created from the merger of three EGTCs that already linked the Hautes-Pyrénées and Pyrénées-Atlantiques Departments, the Province of Huesca and the Autonomous Community of Aragon.

Thanks to this new decision-making body, we will manage more effectively the POCTEFA funds which support our joint cross-border infrastructure and territorial innovation projects. We can also look for new sources of funding in order to continue the sustainable development of our fragile mountain environment and to promote the Pyrenees as a tourist destination.
Together, we constitute a major and very beautiful destination for international travellers and this considerably enhances our attractiveness and our ability to win new customers.
Together, we are home to a unique collection of the Pyrenees' most important sites (Gavarnie, Ordesa, Ossau and so on), a shared heritage in the form of an unspoilt natural environment, high-quality farm and artisanal produce, shared cultural practices and a long tradition of exchanges and sharing.
In short, we cultivate the art of living together. Beyond its attractiveness purely in terms of tourism, our territory has a geographical cohesion, a shared history, common cultural terms of reference and above all a strong emotional identity.
Read the article: The "Pyrénées-Pirineos" EGTC: Aragon and French territorial authorities join forces



Photo credits : CD65-Laurent Gaïts
Back to list