News
Editorial from Jean-Marc Ayrault, Minister of Foreign Affairs and International Development (France)
November 2016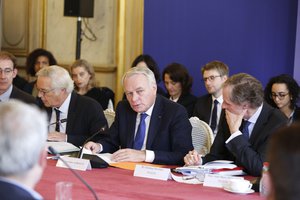 After several decades of innovative projects undertaken between neighbouring countries, cross-border territories have become shared living spaces, and places for discovering a "European citizenship" experienced in daily life.
There are currently ten million French citizens living in proximity to a border, of whom nearly 400,000 cross a border every day to go to work. In this context, the white paper entitled "Diplomacy and Territories", produced on the initiative of the Ministry of Foreign Affairs and International Development, highlights the place of cross-border issues in the external action of local and regional authorities.
Furthermore, cross-border cooperation is also a factor in democratic governance and regional integration.
It is for this reason that we are strengthening our support for the Mission Opérationnelle Transfrontalière: the networking of our border territories is essential, in order to overcome obstacles to cooperation encountered locally, but also to combine our forces, exchange good practice and establish, in our territories, effective public policy in the service of our fellow citizens.

Our cross-border cooperation serves as a laboratory for the building of Europe, that allows our common good to be experienced in daily life, and must help us in our efforts to build, for tomorrow, a Europe that is closer to its citizens.

Read the article: "The White Paper 'Diplomacy and Territories' of the French Ministry of Foreign Affairs: 'A genuine strategy for cross-border cooperation'"
Back to list