News
Editorial from Agnès Monfret, Head of Unit, European Cross-Border Cooperation, DG REGIO, European Commission
May 2016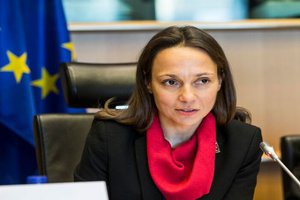 With 25 years of supporting Interreg programmes for cross-border cooperation to its credit, celebrated in 2015, but aware of the progress that still needs to be made, the Commission initiated a process of identifying the obstacles that remain at the EU's internal land borders.
In addition to a study whose findings are expected to be ready by the end of 2016 and several workshops with key players, Commissioner Corina Creţu launched a public consultation whose findings were published in April. It transpires that the 222 documented obstacles listed by the study and the 623 replies to the online questionnaire concur: administrative and legal obstacles constitute the main brake on cross-border cooperation, ahead of linguistic barriers, difficulty of physical access or economic disparities. Obstacles related to the labour market (lack of recognition of qualifications and differences in social security, pension and taxation systems) predominate, followed by all of those little daily annoyances that discourage mobility by citizens and entrepreneurs stemming from the conditions relating to different systems of banking, healthcare or transport.

"Europe will not be made all at once, or according to a single plan. It will be built through concrete achievements." Faithful to Jean Monnet, the Commission will therefore seek to analyse the good practices identified, of which there is no shortage, which create a "de facto solidarity" and lay the foundations for multi-level governance, the fruit of effective pragmatism for the benefit of the some 190 million European citizens who live in cross-border regions.

Read the article "Overcoming the obstacles to cooperation: the Commission publishes the first findings of its consultation"


Back to list