News
Workshops in Bayonne and San Sebastian for the Basque Country Cross-Border Cooperation Plan
October 2019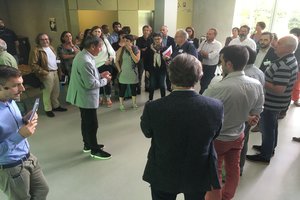 As part of the process of drawing up its Cross-Border Cooperation Plan, the Basque Country Community (CAPB) ran "cross-border cooperation workshops", in Bayonne on 20 September and in San Sebastian on 25 September, with support from the MOT and the Atlantic and Pyrenees Urban Planning Agency (AUDAP).
These workshops brought together experts from the cross-border territory with the aim of formulating concrete measures around four objectives:
making the most of the assets and opportunities in the cross-border living areas;
acting together to achieve excellence and improve the territory's standing;
fostering sustainable and coordinated management of common resources and natural areas;
promoting shared values and a sense of cross-border belonging.
At the start of the first session in Bayonne, the CAPB's President, Jean-René Etchegaray, recalled that "the cross-border dimension should be at the heart of our public policy". The discussions focused on mobility, jobs and training, services to the population, promoting the territory, higher education and research, large-scale infrastructure and the territory's attractiveness.

The areas of work addressed by the second day, in San Sebastian, were protection of natural resources and environments, the circular economy, strengthening multilingualism and cross-border citizenship.
The MOT, which assisted the AUDAP in this exercise, and with which it co-facilitated several workshops in Bayonne, is working more specifically on the development of cross-border governance and its adaptation to the CAPB's roadmap. This roadmap will be adopted by the CAPB's Council by the end of 2019.
Back to list