News
The Nord Department: a cross-border strategy that translates into concrete projects
July 2018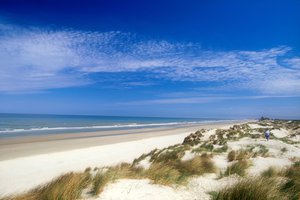 More than 100 people gathered on 12 June 2018 in the ancient Vaucelles Abbey (Cambrésis, Nord) for the first Departmental Meeting on Cross-Border Cooperation organised by the Nord Department.
Territorial authorities, government representatives, European bodies, EGTCs and bodies from different fields – a diverse French and Belgian audience – attended the presentation of the new departmental strategy on cross-border cooperation and could thereby observe the implementation of the "cross-border reflex" in the Nord Department's policy priorities: jobseeker placement in Belgian Flanders, a cross-border support network for carers looking after elderly people, teaching Dutch and French to young people, discussions about access to food for vulnerable populations and about healthcare, joint management of natural areas, particularly sand dunes, cycle tourism, public reading networks, cultural projects, etc.
A host of actions that elicited proposals from participants, for example concerning child protection, cross-border mobility in rural areas, and cross-border cultural and tourist trails.
In its role as key witness, the MOT was able to relate these actions to initiatives implemented on other borders.
Lastly, the Hauts-de-France Region, the Provinces of Western Flanders and Hainaut, the Wallonia-Brussels Federation and the Eurometropolis and West-Vlaanderen/Flandre-Dunkerque-Côte d'Opale EGTCs expressed their desire to work together to achieve more effective governance, in order to develop a cross-border region both by and for citizens, particularly young people.
A direction that makes sense in the run-up to celebrating 30 years of cross-border cooperation in the Nord Department in 2019.
The Nord Department joined the MOT in September 2017.
Read the editorial of Sylvie Labadens, Vice-President of the Nord Department responsible for International and European Relations
Photo: Philippe Houzé – Photothèque du Département du Nord
Back to list