News
Watercourses in South-West Europe: the example of the Garonne
September 2014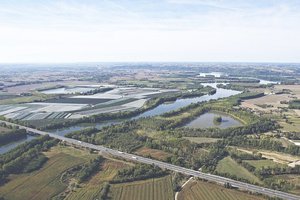 Flowing through both Spain and France, the Garonne river encourages cross-border exchanges.
These exchanges constitute assets for the Joint Association for the Study and Development of the Garonne (Syndicat mixte d'études et d'aménagement de la Garonne – SMEAG) in its work to ensure better management of the river. They are aimed at carrying out new projects and disseminating the lessons and good practices in each of the partners' territories.
The SMEAG, which is a member of the MOT, has recently conducted two projects co-financed by the Interreg programme IVB Sudoe: the "European River Territories" project, completed in June 2014, and the "Sud'eau 2" project, which runs until December 2014.
A river territory for watercourses
The closure of the "European River Territories" project on 5-6 June 2014 in Pamplona was an opportunity to affirm the need to reconquer "river territories" – areas of effective functioning of watercourses – in order to reduce the risks of flooding and erosion and to enhance the biodiversity and state of watercourses.
More info
A network for players in the area of watercourses in South-West Europe
The "Sud'eau 2" partners, for their part, have noted the unequal ability across local players to get involved in the management of watercourses due to a lack of methodologies and tools. The SMEAG leads the "good practices" working group: a "toolkit" is going to be produced in order to disseminate existing good practices and thereby foster cooperation and networking among players with similar preoccupations. Dissemination of this toolkit is scheduled for December 2014.
If you wish to promote a project or share an experience and join this network, contact:
fabienne.sans(at)smeag(dot)fr
More info
Back to list