News
Trinational cooperation around Basel
September 2014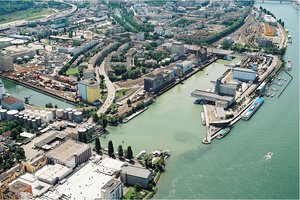 Cross-border cooperation in the Basel trinational conurbation has grown up since 1995 around projects in the areas of territorial development and public transport.
The substantive work carried out over the past ten years by the members of the Basel Trinational Eurodistrict, with the financial support of the Upper Rhine Interreg and New Swiss Regional Policy programmes, is bearing fruit. Several cross-border bus services have been put in place and two cross-border tramlines are being built. The first of these, between Basel (CH) and Weil am Rhein (D), will be inaugurated at the end of 2014 and the second, between Basel (CH) and Saint-Louis (F), will be inaugurated in 2017. In parallel, three major projects supported by the Basel Trinational Eurodistrict are being implemented. The first, the "IBA Basel 2020" international architecture exhibition is pursuing its role as the coordinator which is ensuring the realisation by 2020 of the 43 cross-border projects that have received the its label. The second, the 3Land project, is developing, with the support of the LIN office, a trinational vision for the development of the port areas in Basel (CH), Weil am Rhein (D) and Huningue (F). The third, the micro-project fund, with financing of 400,000 euros, has made it possible to co-finance 15 projects being carried out by French, German and Swiss cultural, sporting and religious associations in the conurbation.
This positive energy being fostered at the local level cannot, however, obscure the clouds generated by the yes-vote by the Swiss population in the "end mass immigration" initiative, which raises many questions about the free movement and employment of European citizens in Switzerland, and ultimately about the continuation of the bilateral agreements concluded between Switzerland and the European Union. This local dynamic could also be greatly hampered if France and Switzerland do not find a solution to avoid a return to the principle of territoriality and to conserve the binational status of EuroAirport, the only binational airport in the world.
More info on the Basel Trinational Eurodistrict website.
Back to list