News
European citizenship and solidarity in times of crisis: joint interview ahead of the Borders Forum
June 2022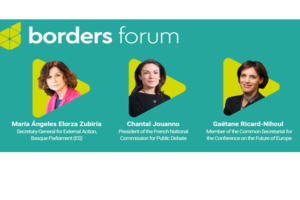 What is the role of border areas with respect to European citizenship? How do local players respond to hosting displaced people in their territory? These are three questions that Chantal Jouanno, Gaëtane Ricard-Nihoul and María Ángeles Elorza Zubiría, all speakers at the forthcoming Borders Forum, will attempt to answer.
The event, which is officially sponsored by France's presidency of the EU Council, is taking place on 21-22 June at the Cité Internationale Universitaire in Paris. For the programme and all the event details.
The press kit
Deadline for registration: 15 June 2022!

---
Chantal Jouanno is President of the National Commission on Public Debate (Commission nationale du débat public – CNDP); Gaëtane Ricard-Nihoul is a member of the Joint Secretariat of the Conference on the Future of Europe, and María Ángeles Elorza Zubiría is Secretary-General for External Action in the Basque Government.
What do cross-border territories represent for you?
Gaëtane Ricard-Nihoul: At a time when borders are again the focus for attention in a way that we thought long past, cross-border territories are incredible laboratories for the European Union's motto: "united in diversity". Today the Union represents more than ever shared values and fundamental rights and the attachment to the common good that is peaceful democratic dialogue. And diversity enriches this dialogue, it enhances it, makes it more interesting and creative. This is what all of the experiments in transnational dialogue that have been conducted within the framework of the Conference on the Future of Europe have shown, of course the European Citizens' Panels but also many cross-border experiments.

María Ángeles Elorza Zubiría: The "Nouvelle-Aquitaine - Euskadi - Navarra" Euroregion (NAEN), is an EGTC comprising three regions in two countries. It covers 101,678 km², with a population of 8,744,648 inhabitants. It is an area of cooperation that aims to improve the well-being and quality of life of its citizens, by contributing to economic, social and cultural development at the cross-border, interregional and European levels. The territories that are part of it work with the dual objective of overcoming obstacles to advance towards a common cross-border area and of promoting it as an area of sustainable human development, thereby contributing to greater integration of the European project. Around 30% of EU citizens live in cross-border settings, which underscores the importance of the cohesion of cross-border territories in making European construction as harmonious as possible. Moreover, cross-border territories are a paradigm for the large-scale obstacles faced by European integration, and a prime laboratory for seeking solutions.
How can citizens be given a greater say in decision-making processes on either side of a border?
Chantal Jouanno: French law gives the right to any person, regardless of nationality, the right to be informed and to take part in the designing of projects that have an impact on their environment. The CNDP is the guarantor of this right. In fact, the border does not exist for the CNDP – the only thing that matters is the interest shown in a project. The person needs to feel concerned by it by virtue of their geographical proximity or the nature of the project.
What role can the inhabitants of border regions play in developing a sense of European citizenship?
Gaëtane Ricard-Nihoul: Cross-border regions are clearly laboratories for the development of a living sense of European citizenship, in addition to national citizenship and local identities. In these regions, active European citizenship is not a concept but something that can be lived on a daily basis. The inhabitants of these territories have a lot to contribute to the development of this citizenship, by showing its benefits but also sometimes the areas in which practical aspects need to be improved. They are also places of democratic experimentation. The first multilingual citizens' assemblies, bringing together citizens selected at random from all backgrounds, took place in cross-border settings, and it is thanks to this experience and the lessons they provided that were able to embark on pan-European assemblies for the Conference on the Future of Europe.
What is the role of cross-border players in receiving displaced people that transit through the territory?
María Ángeles Elorza Zubiría: The crisis sparked by the Covid-19 pandemic confronted us with an unprecedented situation in which all aspects of our lives were put to the test, including realities as unquestionable as the free movement of people and workers within the EU. As a result, border regions and their inhabitants suffered more than others from the effects of the pandemic. This situation was prolonged by national security border controls that particularly affected migrants in transit.
Article 174 of the Treaty on the Functioning of the EU recognises the challenges faced by border regions and stipulates that the EU should give these regions special attention. Border regions are places where the process of European integration should be perceived most positively, but living in different administrative and legal systems is complex and expensive. Indeed, the European Commission estimates that if only 20% of the existing cross-border obstacles were removed, border regions could increase their GDP by 2%.
In this context, it is vital to strengthen collaboration between border territories to respond to migratory crises, in order to give people fleeing their country a decent welcome. Cross-border territories should strive to ensure that people migrating enjoy their fundamental rights in terms of human dignity and respect for the law.
The Basque Country is working actively to do this with its cross-border territorial partners. One example is the collaboration initiated between the Basque Government and the Basque Country-Euskal Hirigune Elkargoa Conurbation to help migrants in transit around the border.
What are you hoping from the Borders Forum 2022?
Gaëtane Ricard-Nihoul: We need to be aware more than ever how precious a cross-border territory that lives in peace is, one that can build bridges rather than destroying them. That might have seemed banal a short time ago, on a European continent that we thought was sheltered from war. That is no longer the case today. I hope that the Borders Forum will be a fresh opportunity to realise that our democracies need to be cherished on a daily basis, and that diversity and dialogue are two of its fundamental drivers. Cross-border territories are the foremost places where these two drivers can be strengthened and regenerated, through concrete projects that connect people on a daily basis. There are so many public and civil society players who invest in these projects with great commitment. I therefore hope that the Forum will be an opportunity to spotlight them, to learn good practices and to give them the means to become ever more numerous.

María Ángeles Elorza Zubiría: That it's an appropriate and enriching forum for discussion which enables us to take advantage of the best practices in the different border areas, bearing in mind that each cross-border reality is different, but that they have important realities in common that can be shared and moved forward.

To follow up on these fascinating issues, see us on 21-22 June in Paris at the second edition of the Borders Forum.
Please note that it's the last day to register!





Back to list