News
Publication of the "Omarjee" Report on Border regions: MEPs want the EU countries to improve cooperation
October 2022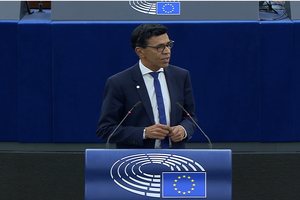 On 15 September 2022, the European Parliament approved the resolution "EU border regions: living labs of European integration" prepared by the chair of the regional development committee Younous Omarjee (France).
The adopted text requires more effective use and better coordination of EU funds to better deal with the whole spectrum of challenges such as environmental, administrative, socio-economic and geographical the EU border regions are facing. In the resolution, MEPs highlight additional and news barriers which appeared during the pandemics and note the role of Brexit in disrupting situation in many border regions.

The report calls on Commission to propose new European Cross-Border Mechanism regulation (ECBM).
Following the voted, the European Parliament rapporteur Younous Omarjee said: "The Parliament is reiterating, through this vote, its commitment to cooperation between European regions. Developing public services, facilitating mobility, promoting access to healthcare, developing the labour market, dealing with climate disasters... all these are challenges that call for common solutions. It is time for responsibility and we expect the Council to release the European cross-border mechanism. We are ready for it."
Back to list