News
The citizens of Europe express themselves in Tournai
November 2018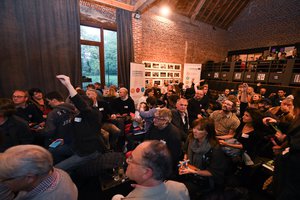 Citizens turned out for the citizens' consultation held on 27 October by the Lille-Kortrijk-Tournai Eurometropolis, the MOT and the Jacques Delors Institute. This was a thoroughly European story.
"Everything starts in the dark. There are around 120 people in the room, murmuring and wondering what awaits them. For the form of this evening is full of surprises and above all invites them to express their emotions, both positive and negative. All of a sudden a voice is heard: a storyteller appears on stage to tell the story of Europe. The aim: to give everyone a shared foundation to then facilitate dialogue."
This was followed by discussions, stimulated by facilitators using innovative methods that gave priority to expression by the citizens of the emotions associated with Europe: disgust with powerful lobbies, fear of the rise of populism, and love for the wider European family with which they live on a daily basis in the cross-border territory.
These citizens also came together for a festive event to celebrate Franco-Belgian friendship and what unites them beyond any differences in opinion.
Interviews were carried out, which show that citizens are ready to participate when they are asked for their opinion.
The Eurometropolis wishes to repeat this successful experiment and has already planned to hold a similar event in February 2019.

Back to list