News
"A multidimensional measurement of the integration between European border regions"
October 2019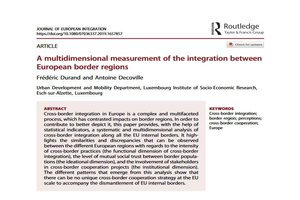 Cross-border integration in Europe is a complex and multifaceted process that has contrasting impacts on border regions. In this article, the authors provide, with the aid of statistical indicators, an analysis of cross-border integration along the EU's internal borders, highlighting the similarities and discrepancies that can be observed between different territories.
They propose a methodology to measure the dimensions of integration based on combining the "functional", "ideational" (collective representations) and "institutional" dimensions.
Academic article by Frédéric Durand and Antoine Decoville published in the Journal of European Integration, Publisher Taylor & Francis, September 2019
https://doi.org/10.1080/07036337.2019.1657857
Back to list