Border: Austria-Czech Republic
Date(s) of establishment:
1918 (current demarcation); 1993 (independence of the Czech Republic)
Length of border:
466 km
Regions concerned:
Austria – Provinces of Upper Austria and Lower Austria; Czech Republic – Regions of South Bohemia, Vysočina and South Moravia.
European programme(s):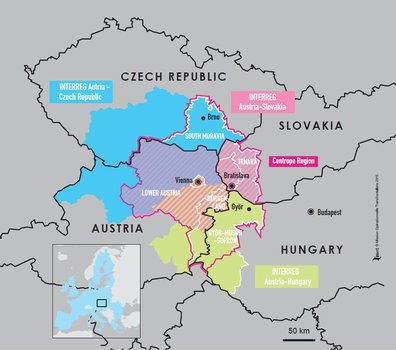 At a length of 466.3 km, the Austro-Czech border begins at the border tripoint formed by the Austrian, German and Czech borders. It then turns towards the east and comes to an end at the tripoint formed by the meeting of borders between Austria, the Czech Republic and Slovakia. Its demarcation crosses the rivers Inn and Morava.
History:
This border was established in 1918, with the end of the First World War, the fall of Austro-Hungarian Empire and the creation of Czechoslovakia. During the Second World War, the region was annexed by Germany, becoming the protectorate of "Bohemia-Moravia". The demarcation remained unchanged, with the border becoming a part of the "Iron Curtain" during the cold war. On 1 January 1969, Czechoslovakia officially became a federation, made up of two states, the Czech Republic and the Slovak Republic, establishing the Austro-Czech border with the dissolution of Czechoslovakia on 31 December 1992 and the independence of the Czech Republic on 1 January 1993.
Cross-border cooperation:
Cross-border cooperation between the two countries has intensified since the accession of the Czech Republic to the European Union and the Schengen Area, in 2004 and 2007 respectively.
Before the Czech Republic's entry into the EU, the Austro-Czech border was the crossing point for flows of illegal immigrants coming from Eastern Europe to Western Europe. For this reason, cross-border cooperation first developed between the police of the two countries.
This border region is characterised by numerous protected natural areas that attract many visitors each year. Tourism is thus considered to be a potential factor in the development of the region. The use of new technologies should increase the competitiveness of this sector and enable it to rival other popular destinations.
Territory projects and institutional bodies for cooperation
Cross-border cooperation at the regional level
Région Centrope (Vienne-Bratislava-Brno-Győr)
Eurorégion Morava