Border: Germany-Luxembourg
Date(s) of establishment:
1816 - 1890 - 1959 - Current demarcation in 1984
Length of border:
138 km
Regions concerned:
Germany - Rhineland Palatinate, Saarland; Luxembourg
European programme(s):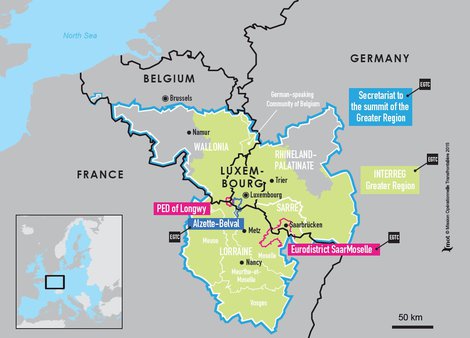 At a length of 138 km, the Germany-Luxembourg border separates the German states of Saarland and Rhineland-Palatinate from the Grand Duchy of Luxembourg. The demarcation follows watercourses in its entirety: the Moselle in its southern part, the Sauer in the middle, and the Our in the North. The border begins in the South near Schengen and ends at Ouren, with the tripoint between Germany, Luxembourg and Belgium.
History
A Duchy since 1354, Luxembourg had long belonged to the Netherlands before becoming independent in 1890. The current demarcation of the border was set by the Vienna accords in 1815 and several border agreements between the Netherlands and Prussia in 1815 and 1816. During World War II, Germany annexed Luxembourg, which reverted to independent status in 1944. The Grand Duchy was entrusted with the management in 1949 of certain Germanic territories including the Kammerwald, changing the boundary line until 1959, when the Kammerwald became German once more. The boundary treaty (Grenzvertrag) of 1984 deals with matters of detail concerning the demarcation of the border.
Cross-border cooperation
Luxembourg and Germany are now active participants in cross-border cooperation as part of the Greater Region. This territory, with its long-established cross-border cooperation between Lorraine, Wallonia, the Grand Duchy of Luxembourg, Rhineland-Palatinate and Saarland is marked both by a diversity in terms of cooperation and significant common challenges, led through a multi-level governance rich in cooperation bodies. Among them at the regional level are the Summit of the Executives of the Greater Region (1995), the Regional Commission Sarre-Lorraine-Luxembourg-Trier/Westpfalz (1971), the Interregional Parliamentary Council (1986), the Economic and Social Committee of the Greater Region (1997) and the Cross-Border Polycentric Metropolitan Region ('RMPT' - 2011), as well as the EuRegio SaarLorLux+ (1995) and the QuattroPole (2000) at the local level.
The "Greater Region" cross-border cooperation programme aims to strengthen the attractiveness of the territory and encourage innovation and economic development, and as a consequence the creation of better quality jobs, as well as aiming to improve the availability and the potential of training facilities. This is the only programme managed by a European Grouping for Territorial Cooperation (EGTC) and this has been the case since 2010.
Luxembourg has three official languages, one of which is German, which has helped facilitate cooperation and communication between the two countries.

Copyright Photo: Peng
Territory projects and institutional bodies for cooperation
Institutional cooperation at the state level
France-Germany-Luxembourg Intergovernmental Commission
Cross-border cooperation at the regional level
Greater Region